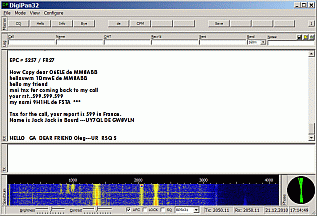 For quite a while now PSK31 has been my main operating mode. I use the "Digipan" software, its been around for some time now but I find it straightforward to use and it runs very nicely on my elederly Windows XP machine.
I was very interested therefore to see on the "MixW" website that there is now a new version of Digipan-
Digipan32
Unfortunately the new version is nowhere near as good as the old. It appears to lack a number of functions, including the ability to decode multiple PSK QSOs at the same time, a function that works well in the original version. In fact I cannot see anything that is better than the previous version. Now I know I should not complain as this software is free. But presumably someone has gone to the trouble of releasing DIGIPAN32 its just I am not sure why. I for one will be sticking to the "old" version for now at least!